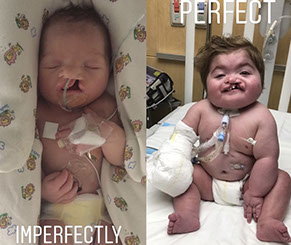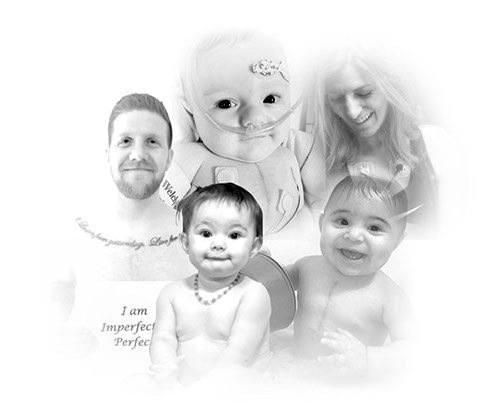 This is Theodore Hartrick aka: Tad
He is almost 14 months old.
He is Imperfectly Perfect.
Tad was born with hypoplastic left heart syndrome, bilateral superior vena cava, severely interrupted aortic arch, mitral valve atresia, atrial septum blockage, double right outlet, single inlet, transposition of the greater arteries, tracheomalacia, tracheal stenosis, cleft lip and bilateral cleft palate, charge sequence, chronic lung disease and more. His heart, and his soul, is rarer than 1 in 200,000,000.
In utero, we found out that Tad had 3 different diagnoses of his heart, alongside cleft palate. It was this diagnosis that took us from our home in the Florida panhandle, to Miami where we found world renowned Dr. Redmond Burke at Nicklaus Children's Hospital. After speaking with Dr. Burke for hours and feeling incredibly comfortable with his experience and guidance, we agreed to move forward with Tad's surgery.
Tad has had 3 heart surgeries including pulmonary artery banding during his first surgery at 3 days old, Norwood procedure with aortic arch repair and atrial septum removal at 4 months, following a pacemaker days later. He's also had a gtube placed and a tracheostomy as well as many catheterizations of his heart, bronchoscopies and other small operations. Up next we will have in the coming days ear tubes placed to remove fluid and improve hearing, shortly after we will do a sleep study to see how he does off the ventilator. The ventilator was a necessity for the tracheomalacia and chronic lung disease which he's had for his entire life. We have slowly been taking him off of this machine, to strengthen him enough so he can breathe on his own. His next surgery is Valentines day 2019, to repair his cleft lip which will lead us on to the next catheterization to plan the Glenn surgery, which is usually supposed to be done at 6 months. It's a miracle he's been doing so amazing for this long without it.
Now obviously this has been a very shortened version of the story and a lot has been left out. But I think these next two paragraphs of what CHD has taught me and what I think others in my shoes should know go hand in hand. As parents with a child who has CHD, you will be told that your child can't do this and that, may not live a normal life, to not expect too much and many other things that will scare you to death. My advice and what I've learned, is you don't listen to anything anyone says that involves your child's capabilities. Your child will show you what they can and cannot do. Believe in them, talk to them, push that positive energy onto them and they will do better than anyone ever anticipated. Tad is a miracle and we know many other children who are the same way just simply because, we believe in them and treat them like better than normal children and better than their "statistic capabilities". Statistics are only recordings of the past people, not your child. Your child will redefine the "stats", which makes them irrelevant. Just be happy, show your love, learn your child, speak up and don't be scared. The doctors, nurses and medical staff don't always know what's going on or what to do for your child even in the best of establishments because everyone is different. You see your child more than anyone and you know them better than anyone else. Fight for them. You are their advocate. But mostly treat them normal and give them a normal life. We take Tad on walks, bath him like a regular child, give him a normal life and he thrives because we don't disable him.
Why did I share my story? CHD is 1 in 100…It is too common to be so unknown. I want to raise awareness for ultrasounds in utero and keeping an eye out for any signs of CHD because finding the proper care at an early stage can make all the difference!