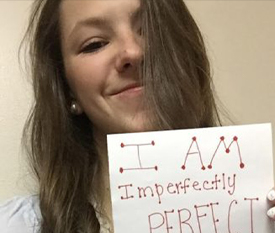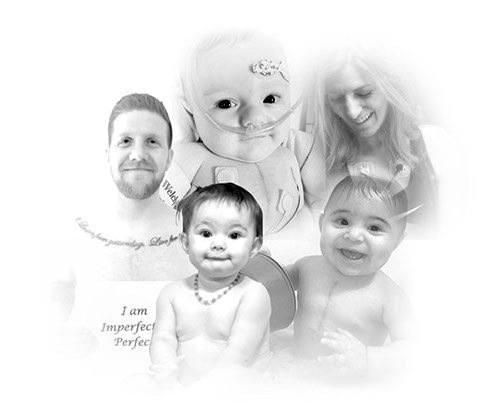 I am 18 years old.
I AM IMPERFECTLY PERFECT.
Hi, my name is Brielle Neumann and I am 18 years old. Some of my hobbies include playing soccer, basketball and jamming on the guitar. I was born with Tetralogy of Fallot, and I am imperfectly perfect.
Shortly after I was born, at just two months old, I underwent open heart surgery to repair the hole in my heart and narrowing of my arteries. I had my surgery at Columbia Presbyterian Hospital in New York City with Dr. Q. I made a full recovery and later went on to be extremely active, playing lots of sports. I was also diagnosed with Scoliosis at age five, wore a brace for eight years, and had spinal fusion surgery at 13 years old. Prior to being cleared for this back surgery by my pediatric cardiologist, they discovered that my heart was having lots of extra heart beats. Thus, my cardiologist Dr. Russell Schiff put me on medication to help regulate my heart beat. Two years later, at the age of 15, I underwent my second open heart surgery. This surgery was to repair my enlarged heart and was done by Dr. Vincent Parnell. In addition, to fix my leaky valve, the doctor replaced my pulmonary valve with a cow valve, making me part human, part cow Overall, now at 18 years old, I have no restrictions and I continue to play all the sports that I always have and I enjoy everyday activities.
Having a couple of major surgeries and living with these rad scars have taught me to be proud of my journey and to use my gained strength to help support others who are facing major life obstacles. Without these surgeries I would not be the same personable and bubbly person I am today. With that said, I would not take any of my journey back… and I love being part cow.
For anyone going through similar obstacles, I would say that everything really does happen for a reason, so keep your head held high. This has always been a statement that I have lived by and has helped me to look at the bright side of every situation. I share my story in hopes to be that positive influence for others who might need a little extra support or positivity throughout their journey. In addition, I share my story to show others that they are not alone. There are always other people going through similar challenges, it's just a matter of finding those strong people to lift you up. I hope others are able to find those people, and also overcome and prosper from their obstacles, just as I was able to do.
Written February 2019